Multimedia New Patient System
Make it EASY for your patients to share your message with their friends!
Increase your number of pediatric exams, effortlessly!
It's a Digital World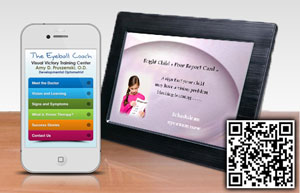 News travels rapidly through the internet thanks to social media.  Today you need a multimedia system with integrated parts delivering a message that motivates your adult patients to schedule appointments for their children and also to spread the word about your specialty to their family and friends.
How Our System Works
Step 1: Educate & Motivate Patients When They are in Your Office on the Critical Link between Vision & Learning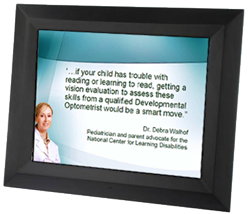 The first part of this system uses a digital frame or monitor which displays images that educate your patients with key messages designed by Toni Bristol. 
These digital images can be displayed in your reception area, dilation waiting area, in your exam lane – basically any place in your office where patients wait for any length of time. In addition, the messages can be tailored for your office and can also include information about your optical specials for the month, OrthoK, head injury and vision messages, etc. 
Step 2: Make it Easy for Them to Get More Information & to Spread the Word – Instantly!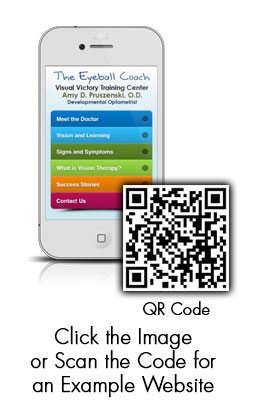 The next part to this system is a mobile website.
Nearly half of all Americans have a smart phone and uses it to search the internet— and the number is rapidly increasing.  When your patients see the messages and want more information, they want to act now.  The first place they will turn to for more information is their smart phone.  Everyone has a website, but only 26% of businesses have mobile websites, even though they are much easier for people to read on a smart phone than a traditional website.
Mobile websites encourage people to read more, and watch videos on their phone.  Plus, they can request an appointment, sign up for e-newsletters and call your office with the touch of the screen. Additionally, they can email or text the link to your site and even share it on Facebook!


What is a QR Code?

This is what a quick response code (QR Code) looks like.  When scanned with a smart phone, it will connect directly to your mobile website!

To scan it in you need a QR reader, such as NeoReader. Simply search "QR Reader" on the Application Marketplace for your device (on the iPhone, it's called "App Store", on Android, it's called "Google Play", etc.) 
Step 3: Make it Easy for Them to Get More Information & to Spread the Word – Instantly!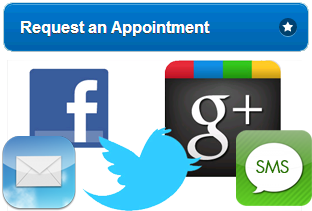 And of course, new patients then email and call you from their smart phones to schedule appointments for their children!
In today's multimedia society you cannot afford to be without this system in your office!
For more information or a free demo, please call our office toll free: 877-248-3823 or fill out the contact us form.