The Magic of Case Presentation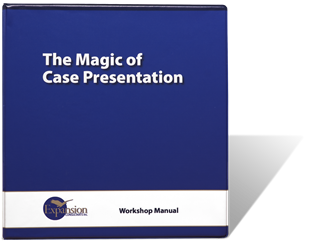 This four-day, intensive workshop provides you with the know-how, presentation skills and collateral materials you need to dramatically increase your case acceptance rate for vision therapy.
Whether you have been doing VT for years and want to expand your existing practice, or are new to the field and want to make it a success, this workshop is a must.
This workshop will teach you:
How to present VT successfully to private pay patients and ensure overall compliance.
How to successfully deal with the most common objections:


"If insurance doesn't cover it..."
"I understand what you are saying, but..."
"Let me talk it over with my husband..."
"We can't afford it." "Don't have the time."

How to ensure your patients will do whatever is required to get their child (or themselves) the VT they need -

regardless of insurance coverage!

How to transition a primary care patient into a Vision Therapy patient effortlessly.
How to successfully approach patients who want a second opinion before proceeding with VT.
The 19 steps critical to ensuring patients will do whatever it takes to get the care they need.
How to discuss the finances.
Proven demonstrations that increase case acceptance and word of mouth.
How to use the

Bristol Case Presentation Method

to get maximum case acceptance.
The Key to Your Success:
Discover the magic of the Bristol Case Presentation Method. This workshop is designed to give you the knowledge, skills, abilities and confidence to sign up more VT patients than you ever thought possible!
This "hands-on" workshop includes demonstration materials and one-on-one coaching to guarantee results.
Note: Depending on how long you have been doing VT case presentations "the old way", you may need some additional assistance in implementing the Bristol Case Presentation Method. If needed, special follow-up consultation packages are available to ensure your success.
The Missing Link:
Marketing Vision Therapy is very different than any other ophthalmic service. Prospective VT patients enter your office with road blocks already in place that prevent your message from being heard. Unless you know what those roadblocks are, and how to eliminate them, you will have difficulty building a successful VT practice.
With over 14 years of experience specializing in consulting optometrists who provide vision therapy, Toni Bristol has isolated the exact procedures and demonstrations necessary to ensure patients follow through with your recommendations for VT.
The Bristol Case Presentation Method gives you:
Increased Case Acceptance
Increased Attendance
Increased Compliance with Home VT
Increased Full Case Completions
All this results in patients with excellent outcomes who rave about you to their friends, teachers, parents and other professionals!
You hold the key to dramatically changing the quality of your patients' lives.
Arrange for a free consultation to find out how this workshop can benefit your practice.
Check the schedule for upcoming workshops.
The Bristol Case Presentation Method Gets Results!
Read some of our many Workshop Success Stories.
Not Sure if this Workshop is for you?
If you aren't sure if this workshop is for you, consider a FREE consultation with Toni Bristol to discuss your situation in detail. During this consultation, Toni will help you determine if this workshop is what you need. If it is not for you, she will help you isolate the exact next step necessary to get you on the road to seeing more VT patients.
For more information or to schedule your free consultation,
call toll free: (877) 248-3823 or fill in a request form.